Healing Powers and Health Benefits of a Bubble Bath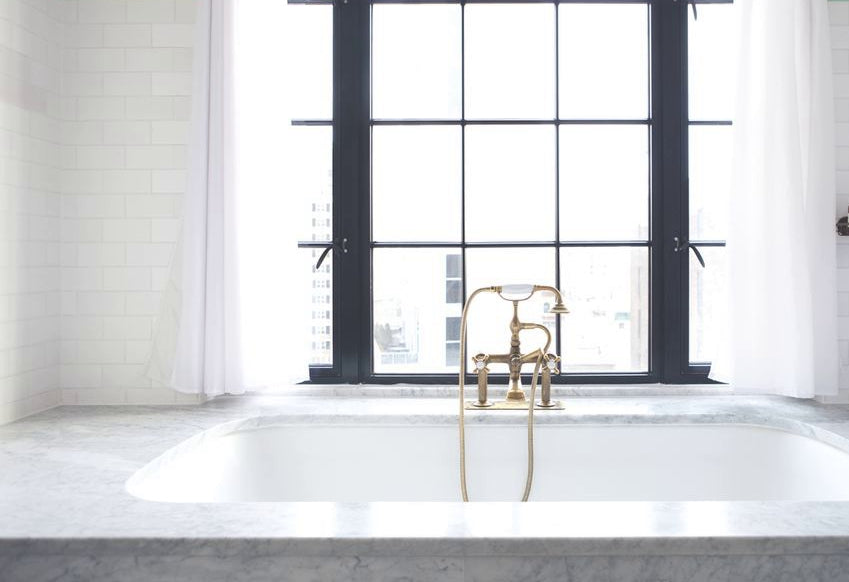 Whether you're a regular bath aficionado, or you haven't taken a bath in a while, taking a relaxing soak in the tub sounds particularly good after a long, stressful day. And isn't it a treat when you find out that something indulgent and enjoyable is actually good for you! Below we outline the ways bubble baths can be greatly beneficial to your health.

Here are 8 reasons you should draw a bath tonight, joining the age of bathfluence...
BUBBLE BATHS: 8 HEALTH BENEFITS
1. Relax Your Mind and Brighten Your Mood

Baths are a wonderful way to relax, let go of everyday stressors, and let ourselves feel pampered. Not only does it just feel good to have some time to ourselves, but submergence in water helps to calm the nervous system, reduce levels of stress and anxiety in the body, and improve our mood. Warm baths can stimulate the production of serotonin, the chemical in the brain associated with happiness. Also it's been shown that our bodies associate being horizontal with relaxation and vulnerability, particularly in the bath, which can mimic the warm, liquid conditions of the womb - which instinctively provides a feeling of security. Bathing gives us feelings of comfort, which allows our minds and bodies to relax.

2. Cleanse and Detoxify

Cleansing in a warm bath with bubble bath helps to remove dead skin and impurities. Heat also opens your pores and allows for more effective cleansing. However, it's important when choosing a bubble bath that it doesn't contain any toxic or harsh chemicals, which can nullify the detoxification effect. Synthetic fragrance in particular can be one of the worst offenders. Our Fine Cleansing Wash is free of synthetic fragrance, sulfates, and parabens, and makes a most luxurious and detoxifying bubble bath that won't strip your skin. Another detoxifying effect of bathing, is that the heat can cause you to sweat, which allows toxins to leave the body, and boosts your lymphatic system.
3. Nourish, Hydrate, and Heal Your Skin

Our bodies are made of mostly water, which is why it's so important to keep ourselves hydrated. In addition to drinking the recommended 8 cups of water daily, bathing in warm water helps to hydrate the body and our skin. Taking warm baths (without harsh soaps or chemicals) has also been shown to improve a number of skin conditions. We frequently hear from customers that using our products helps with a variety of skin ailments including eczema, keratosis pilaris, dry & rough skin patches, skin allergies & irritations, and more. If you suffer from eczema, the National Eczema Association recommends the "Soak and Seal" method, which includes taking a bath in lukewarm water using a gentle cleanser, followed by liberally applying moisturizer all over slightly damp skin.

4. Soothe Sore Muscles

Submergence in water helps to reduce pain and inflammation in the muscles and body, making bubble baths a great way to help our bodies heal. Whether we're tense from a long day behind a desk or an active workout, relaxing in a sumptuous bubble bath helps us to wind down. Allowing our muscles to relax stimulates blood flow and lowers tensions. And taking a hot bath, similar to using a heating pad, increases the temperature of aching muscles which provides pain relief. Heat gets your blood moving, which is not only great for circulation, but can also help sore or tight muscles to relax. Sometimes we like to add epsom salts to our bubble baths, which can further soothe sore muscles.

5. Improve Blood Circulation and Heart Health

When you envelop yourself in warm water the heat increases your blood circulation, making the blood flow easier. By using heat to induce better blood flow, taking a warm bath makes your heart beat faster and can give it a healthy work out. Bathing also helps to oxygenate the blood by allowing you to relax and breathe more slowly and deeply. And according to some research, taking regular warm baths can help reduce blood pressure, which is important for overall health.

6. Burn Calories

According to a study covered by Business Insider, a good sweat induced by a hot bath can burn as many calories as taking walk. Bathing has also been shown to have a similar anti-inflammatory response on the body to exercise. While we don't recommend bubble baths in lieu of regular exercise, this bit of information is a nice bonus.

7. Boost Your Immune System and Relieve Cold/Flu Symptoms

Soaking in a warm bath has been shown to stimulate your immune system, decreasing your chances of contracting a cold, and helping you to fight infection if you have one. It is recommended that you keep yourself warm when suffering from a virus, which helps certain elements of your immune system to function more efficiently. A nice warm bath is an enjoyable way to keep warm. The inhalation of steam is also an excellent remedy for cold symptoms, clearing out the nasal passages while reducing inflammation - a steamy bath is great for this.

8. Sleep Better

The benefits of getting enough quality sleep for overall health and well-being are now well-known, but many still struggle to fall asleep at night. One of the signals to the body that it's time for sleep is a drop in our internal body temperature, which then signals the body to start producing melatonin, a hormone that prepares us for sleep. Having a soothing warm bath before bed can induce a better night's sleep by kick-starting the body to start a downshift in temperature by first heating it up. Our bodies get colder at night naturally, but giving the cool-down process a nudge by heating yourself up artificially first is a proven trick to wind down and start feeling tired. Once out of a bath, cool down naturally and slip into bed for some quality beauty sleep.
Recently referenced by goop, emerging research is beginning to uncover even more benefits of hot baths.

Use our Clean Luxury Bubble Bath to recharge, restore, and luxuriate in a warm bath this weekend, or any night of the week. Now available in a chic refillable glass bottle. Nourish and detoxify your skin and your mind with rich, long-lasting bubbles that are always free of toxins, sulfates, parabens, and synthetic fragrance - and full of hydrating nutrients.
*These statements have not been evaluated by the Food and Drug Administration. Our products are not intended to diagnose, treat, cure, or prevent any disease.